Dental Implant Aftercare – Plano, TX
Learn How to Care for Your Smile
If you've made the choice to replace your missing teeth with dental implants, it's time to protect your investment. Your new smile can last for several decades if you take the time to maintain your dental implants. With the right aftercare, you should never need to worry about having them replaced. To ensure your dental implants thrive, here are 3 important tips to follow.
1. Make Oral Hygiene a Priority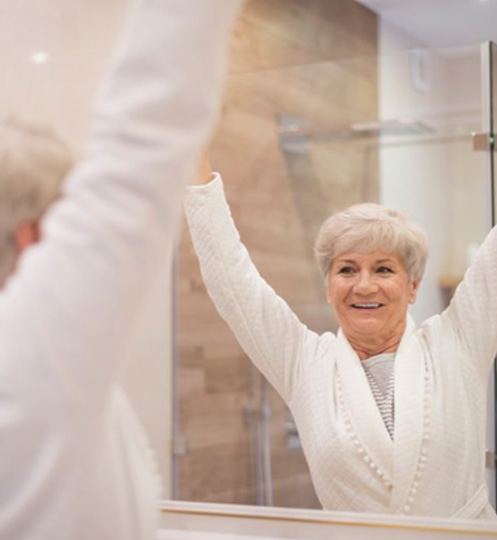 Although dental implants aren't subject to tooth decay, you still need to take the time each day to care for them. The biggest threat to the longevity of your new smile is a preventable infection called peri-implantitis. It results from bacteria found in plaque accumulations.
You can easily prevent the infection by brushing any natural teeth and your dental implants twice a day using a soft-bristled toothbrush and nonabrasive toothpaste. Take the time to clean between any natural teeth and around the abutments using a high-quality dental floss. It can be difficult to clean these hard-to-reach places, so you may prefer to use a waterflosser.
2. Protect Your Dental Implants
Besides infection, damage to your dental implants can come from an injury. It's best to wear an athletic mouthguard if you play sports. It provides a protective barrier between your oral structures and the force of the trauma. It can prevent broken or chipped teeth, as well as damage to your dental implants. Not only can you protect your smile, but research shows an athletic mouthguard can also lower your risk of a concussion if there's an injury to your face or head.
The success of your dental implants can also be compromised by bruxism. The pressure from grinding and clenching can cause your implants to become loose and fall out. The force can also wear down your restorations and the enamel of any remaining natural teeth. You can create a protective barrier between the top and bottom teeth using a custom-made nightguard.
3. Schedule Regular Recall Visits
It's best to visit your dentist at least twice a year for a cleaning and checkup. Dr. Antoon will examine any remaining natural teeth, as well as your oral tissues and structures. He'll also take the time to check your dental implants for any signs of complications, such as inflammation. Quick detection allows him to treat the problem while it's still small to prevent them from worsening and leading to implant failure.
You'll also have a thorough cleaning to remove any accumulations you may have missed at home. Your dental hygienist will take the time to discuss your current oral hygiene routine and suggest improvements to keep your smile healthy in between appointments, like using an antimicrobial mouthrinse.
If a concern develops in between your semi-annual appointments, like pain or a feeling like the implant is loose, don't wait until your next visit. Contact our office right away.
Protect Your Investment
The right dental implant care can help to ensure your new smile lasts for a lifetime. If you have any questions, please contact our office to speak with a member of our team.