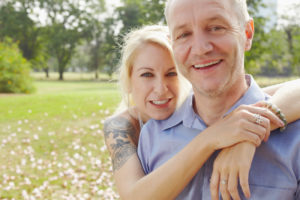 What's the point in replacing a tooth you can't see? A lot. Your dentist in Plano warns failing to do so can lead to serious issues — not the least of which is losing even more teeth down the line. Keep reading to learn more about the significant impact of tooth loss, even when it's the premolars and molars at the back of your smile.
What Happens When You Lose a Tooth
Most people over the age of 35 have lost at least one tooth. Tooth loss can occur for many reasons, ranging from poor oral hygiene to facial trauma or injury. And once you have lost a tooth from anywhere in the mouth, you're not just missing the visible crown. The root structure is lost, too — which means you no longer have the stimulation that brings blood flow and nutrients to the jaw bone. Without a sturdy replacement, the bone will gradually diminish, losing its strength and reducing the foundation your teeth need to stay strong. More teeth are likely to be lost in the future.
A gap in the smile can also cause the surrounding teeth to drift out of place. This results in orthodontic issues that may need to be corrected later on. Of course, missing teeth can also make it difficult to chew your food properly. Many people with tooth loss limit their eating habits to soft, easy to eat foods. Speaking clearly may present an issue as well.
Even though the first effect of tooth loss you may notice is cosmetic, the long-term implications are much more significant. Don't wait to explore replacement options with your dentist as soon as you have lost even a single tooth.
Your Options in Tooth Replacement
There are a number of methods for replacing a missing tooth. Scheduling a consultation for restorative dentistry can help you to understand which may be best for your smile.
One of the most popular options is the crown and bridge. This forms a literal bridge over a gap in the smile, with two sturdy crowns affixed to the natural teeth on either side of the empty space and a pontic (false tooth) placed between. This corrects the cosmetic issue having a gap in the smile and also prevents the other ones from drifting out of place.
Dental implants are another option — and patients who are eligible should strongly consider it. Nothing else provides a replacement for the missing tooth's root. This type of comprehensive solution restores the form and function of your smile and also stabilizes the jaw bone to prevent the loss of additional teeth.
The conclusion is simple. When you've lost a tooth — even one in the back of your smile — don't hesitate to get in touch with your trusted restorative dentist!
About Antoon Family Dental
Plano dentist Dr. Sam Antoon is an expert in restorative dentistry options, including the crown and bridge and dental implants. To discuss rebuilding your smile after tooth loss, do not hesitate to get in touch with the team at Antoon Family Dental! Call the office at 972-267-5000.