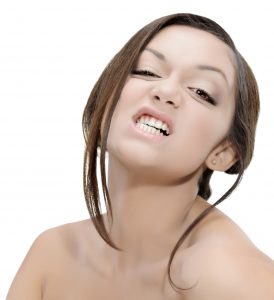 That question in the title may be hard for people to answer. Why? Because for some, teeth grinding and clenching—also called bruxism—is a nighttime habit than only happens during sleep. So, the only way you may know that you grind your teeth is if the person sharing your bed lets you know… often in no uncertain terms. Unfortunately, bruxism may not only disrupt your sleep, the condition can also lead to serious dental problems and even TMJ dysfunction. To alleviate teeth grinding, Plano, TX, residents can count on the team at Antoon Family Dental.
Why do you grind you teeth?
Dentists and physicians believe there may be a number of physical and psychological reasons why people grind their teeth. For some, the cause is stress. You may notice that at times during the day when you are feeling particularly stressed, your jaw tightens and your teeth clench. This is actually a very natural occurrence that stems from the inbred fight or flight response system in the human brain. For others the reason is misaligned teeth or a poor bite. Bruxism may also develop as a result of a severe brain injury or an uncommon side effect of some psychiatric medications.
What are the symptoms of teeth grinding?
Although not a symptom, teeth grinding is most often recognized by the annoying sound that the habit causes. Signs and symptoms that a bruxer may notice include:
Tight or sore jaw muscles, especially in the morning
Persistent facial pain
Morning headaches
Broken fillings, unusually worn teeth or sore gums
Rhythmic contractions of your jaw muscles
How is bruxism diagnosed and treated?
When you come to see Dr. Antoon for one of your regularly scheduled dental checkups, he will examine your teeth for signs of unusual wear; your jaw for tenderness; and the alignment of your bite. If he suspects that you are grinding your teeth, then there are several treatment options.
A nightguard is a comfortable oral appliance that protects your teeth from the affects of nighttime teeth grinding. If grinding and clenching are related to stress, then aerobic exercise, yoga or counseling therapy may be helpful ways of relaxing. The important thing to know is that Dr. Antoon and his staff will work with you to help you overcome bruxism so you can sleep well and have a healthy and beautiful smile.
Call Our Office Today
If you or someone else in your household has trouble with teeth grinding and clenching, call the office of Antoon Family Dental in Plano, TX. We'll be glad to help!