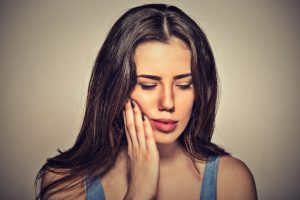 Dental pain comes from many sources–sensitivity from thin enamel or exposed roots, a deteriorating filling, TMJ Dysfunction, or poorly aligned teeth. Frequently, dental decay causes oral discomfort. Dr. Sam Antoon, your Plano, TX dentist, restores decay precisely and comfortably.
What is a cavity?
A dental cavity is a hole in the outermost layer of your tooth enamel. When untreated, it may exhibit no symptoms of any kind for a while, but over time, cavities deepen and cause more serious issues, such as infection and tooth loss.
Dentists have traditionally treated tooth decay is treated with amalgam fillings. Today's preferred material is tooth-colored composite resin. Cavity treatment with fillings, or for more advanced decay, crowns and root canal therapy,  restores tooth structure to good function and appearance.
However, Dr. Sam Antoon and his staff would tell you that preventive dentistry is best. In other words, they want to help their patients avoid cavities, gum disease and other oral health problems before they start.
The causes of tooth decay
Oral bacteria, particularly Streptococcus mutans, cause cavities. Multiplying in the carbohydrate-based foods, these micro-organisms secrete acid on tooth enamel. The resulting cavities often appear in between teeth, at the gum line and on deeply grooved chewing surfaces.
Without proper daily brushing and flossing, plaque, a sticky biofilm where bacteria grow, builds up on teeth and in the interdental spaces.  Fairly quickly,  plaque hardens into hard tartar.  Tartar may only be removed at your Plano, TX dentist's office through a thorough professional cleaning.
Negligent  oral hygiene causes tooth decay. However, some people simply have softer tooth enamel. Plus, some prescription medications and cancer therapies deteriorate tooth enamel, making it very prone to decay.
Prevention is key
Careful daily brushing with a fluoride toothpaste and soft-bristled brush along with flossing prevents tooth decay as do 6-month check-ups and cleanings with Dr. Sam Antoon.  Routine exams spot tooth decay early and other oral health threats, too, such as cancer.  Also, Dr. Antoon advises fluoride treatments and plastic sealants for molars to protect against decay.
Besides at-home and in-office care, Dr.Antoon and his team urge:
A nutritious, low-carb diet with lots of fruits and vegetables, high-grain breads and low-fat meats and dairy
8 glasses of water water daily to rinse off teeth and gums and to increase saliva production
Chewing sugarless gum to increase saliva and reduce acids on teeth
Treating cavities
If you have tooth pain related to a cavity, don't worry. Modern restorative dentistry has many innovative ways and materials to bring your tooth back to health and full function.
After detecting a cavity through visual inspection or x-ray, Dr. Antoon delivers composite resin fillings that are enamel-matched and strong. This innovative material requires less enamel preparation than amalgam. Also, Dr. Antoon places beautiful, lifelike crowns over more extensively damaged teeth.
Contact Antoon Family Dental
If you are concerned about the health of a tooth, contact Antoon Family Dental  for an appointment. Keeping ahead of dental decay simply takes diligence at home and with your Plano, TX dentist.