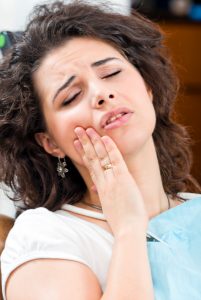 Nothing ruins a perfectly good day faster than a toothache! It may start off as some simple sensitivity to hot or cold foods or beverages, however that can quickly develop into a full-blown toothache. It's been said that dental pain is some of the worst, but what are the causes? Your Plano emergency dentist discusses some of the top reasons for tooth pain.
Chipping or Fractures
If your tooth is broken, chipped or fractured you may begin to experience sensitivity. Being proactive about visiting your dental provider right away is the best way to prevent further pain and damage.
Abscess or Infection
If your tooth has an abscess or infection you'll begin to experience severe pain or a toothache. It's important to understand that this type of pain will not go away on its own, in fact, it will actually get progressively worse. Contact your dentist right away to avoid infection spreading to other areas of your body.
Clenching or Grinding
Otherwise known as bruxism, clenching or grinding your teeth at night can lead to a whole host of other issues including tooth pain. You may also experience headaches, wear on your teeth, and pain in your jaw joint. Wearing a night guard to protect your teeth may help alleviate tooth pain.
Broken or Lost Restorations
Old silver fillings have a tendency to break or leak over time. This allows bacteria in, which eventually causes decay. If your filling is broken or falls out it may cause pain or sensitivity to your tooth.
Tooth Decay or Cavities
When bacteria attack your tooth, the acids it produces will begin to cause your tooth to decay. These acids cause your enamel to erode and eventually leaves holes in your teeth called cavities. As cavities progress further, you'll begin to experience sensitivity and then pain. If left untreated, decay will gradually make its way further into your tooth and eventually cause damage to your root.
Periodontal Disease
Periodontal (gum) disease occurs when plaque build up causes your gum tissue to separate from your tooth. When plaque and bacteria build up beneath your gum line they will begin to eat away at your teeth and bone. If left untreated, gum disease will eventually cause pain and tooth loss.
At Antoon Family Dental, it's our goal to help you achieve and maintain optimum oral health and preserve your natural teeth for a lifetime. We'll take the time to educate you about your oral health so you can take care of your teeth at home and make the right treatment decisions for your needs and lifestyle. Dental pain can be the sign of deeper issues going on in your mouth and we encourage you to contact us right away if you're experiencing pain.