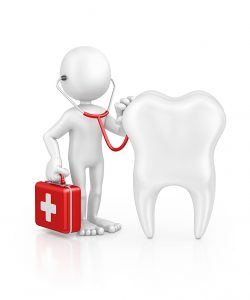 Everyone knows that the key to handling any kind of emergency is not to panic. However, that's usually easier said than done. The solution, therefore, is to have a plan in place. If you are in the midst of a dental emergency, then the first step is to call Plano emergency dentist Dr. Antoon. At a moment's notice, Dr. Antoon and his team will be ready to help.
If necessary, we can schedule an appointment immediately, because sometimes the difference between losing and saving a tooth is a mere 30 minutes. To reach our office, call 972-267-5000. One of our staff will be able to offer you advice on how to handle your particular emergency until you arrive at our office. Also, Antoon Family Dental offers an emergency exam and x-ray for only $25.
Prevention Instead of an Emergency
Our first piece of advice is that the best way to avoid a dental emergency is with wise prevention. Dental emergencies often occur during athletic competition or casual play. In either situation, a mouthguard should be a standard part of your uniform. Dr. Antoon will prescribe a custom-fitted mouthguard that is comfortable to wear. This oral device protects the teeth, gums, lips and tongue from injury so you can concentrate on your game.
Emergency Care from Your Plano Dentist
Dr. Antoon and his staff are here for you no matter what your emergency. Whether you are dealing with a knocked out tooth, a broken tooth or a toothache, you can count on Antoon Family Dental to help.
If your emergency is a knocked out tooth, then time is of the essence. This is the emergency where 30 minutes can make all the difference. If possible, call our office to tell us you're on the way. In the meantime, the following steps will help preserve the tooth:
Touch the tooth's crown and not the root
Rinse the tooth with water
Hold the tooth in its socket if there isn't too much bleeding
If this isn't possible, place the tooth in a sealed container filled with milk
When you arrive at your 75024 dentist, Dr. Antoon will be able to determine whether or not the tooth can be saved.
Other common emergencies are a broken tooth and a toothache. Both of these warrant immediate attention. A broken tooth may cause damage to a tooth's interior where nerve, lymph and blood tissue are housed. A serious toothache may similarly indicate that this space has been damaged by infection. In either case, root canal therapy may be necessary.
Please call us if you have an emergency or to schedule your appointment for any of our dental services. We regularly see Plano patients including busy professionals who work on Preston Road, Coit Road, Spring Creek Parkway, and in the Shops at Legacy.