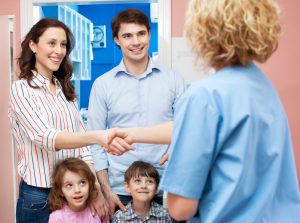 Your family's oral health is vital.  At Antoon Family Dental, we wish to help you choose a highly qualified and trusted family dentist in Antoon. Here are tips to use as you search for that oral health partner.
What is Family Dentistry?
Your family dentist cares for all aspects of your oral health, particularly prevention. From hygienic cleanings to remove plaque and tartar to X-rays and exams to restorations such as fillings and crowns, your family dentist preserves smiles. He or she looks after the entire family from toddlers to senior adults, focusing on maintaining their teeth and gums at each stage of life
Family dentists provide preventive services, too, such as fluoride treatments, plastic sealants and mouthguards for sports, TMJ and snoring. And, when serious concerns arise, such as oral injury or a throbbing toothache, the family dentist addresses emergency care needs promptly.
In addition, the family dentist provides a wide menu of restorative and cosmetic treatments to bring smiles to full health. He or she resolves or refers out important aesthetic issues, such as orthodontics. The dentist formulates treatment plans which incorporate the patients' cosmetic goals.
Research
Before you choose a family dentist, find out practices in your area. The doctor's website gives information on education, professional memberships such as the American Dental Association, a  list of services, his or her dental school and continuing education credentials. Explore online rating sites such as Healthgrades.com.
Also, seek out a referral from a trusted friend or relative. Ask about their dental care, especially if they have used services your family needs. For example, is your neighbor happy with the orthodontic care his teen receives?
Tour the Office
How the dental office operates indicates how a family dentist operates. Your family deserves a dentist with an empathetic attitude and who is available to answer concerns and to treat emergencies promptly.
Ask for an office tour with your prospective family dentist. Is the office convenient to your home or workplace? Is the atmosphere welcoming? Are the staff timely and helpful? If you have young kids, when does the dentist first start seeing them? What about the fearful patient–does the dentist offer sedation dentistry?
Additionally, what are the payment or financing options for more costly procedures such as dental implants? Does the dentist offer new patient specials? What dental insurances are accepted?
Look at the List of Services
What else does the dentist offer besides basic care? Look for:
Gum disease therapy
Crowns and bridgework
Dentures
Dental implants
Composite resin fillings
Porcelain veneers
Composite resin bonding
Professional teeth whitening
Traditional orthodontics or clear aligners
Emergency dentistry
Sports mouthguards
Is There a Family Dentist Near Me?
Look at all aspects of dental care in Plano, TX before selecting someone to meet your family's needs. After you do research, we're sure you'll decide that Dr. Sam Antoon will satisfy your requirements. Contact Antoon Family Dental for an appointment.