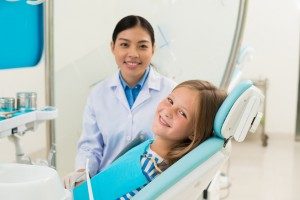 The American Dental Association recommends every one over the age of two visits the dentist twice a year for preventive care. However, too often people do not maintain regular appointments because they are concerned about the cost of dental services. As your family dentist in Plano, Dr. Antoon understands your concern, which is why Antoon Family Dental is proud to be an in-network Delta Dental dentist. As an in-network dentist, Dr. Antoon will help you maximize your insurance benefits to keep out-of-pocket costs to a minimum.

Your In-Network Dentist
Delta Dental was the first company to special in dental benefits due to a passion for oral health for all generations. Now, Delta Dental is the largest dental plan system in the United States. Many employers, including Frito-Lay and PepsiCo, choose Delta Dental due to the affordable and effective benefits the company provides.
When it comes to your dental health, you need an affordable means to keep your oral health a priority. By choosing an in-network dentist in Plano, like Antoon Family Dental, you could pay no out-of-pocket costs for preventive care. Preventive dentistry helps to prevent the need for costly or invasive treatments in the future. As a result, Delta Dental routinely covers these appointments in full. Your insurance should fully cover two checkups and dental cleanings each year, which may also include free x-rays. However, the amount of coverage can vary depending on your exact benefits plan.
Even with the best preventive care, there will come a time when your family needs restorative dentistry. By using your dental benefits, you could save as much as 80% off restorative procedures. As an in-network dentist, we will file the necessary claims and forms to help you maximize your dental benefits when needing fillings, extractions, root canals, and other restorative procedures.
In addition to restorative dentistry, you are also given a yearly allowance for other procedures, which can sometimes include orthodontics or cosmetic dentistry. To use your benefits to their full potential, we will help you understand which procedures are covered.
Benefit from Affordable Dentistry
To provide the community with affordable care, we will work with patients who are not in the Delta Dental network as well. We work with other dental insurances, such as Aetna and MetLife.  No matter your dental insurance, we will help you understand what services are covered under your plan and any out-of-pocket costs you may need to pay.
We strive to make dental care affordable for the entire family. We do not want to see your family place their oral health at risk due to finances. We will work with your insurance company to help you maximize your dental benefits for complete, comprehensive care while staying within your budget.
If you need affordable dental care, it is time to choose an in-network dentist with Antoon Family Dental. It is our mission to provide affordable dental services to families in the area. Contact our office today to schedule your appointment. We will discuss your coverage when scheduling your appointment for added peace of mind.