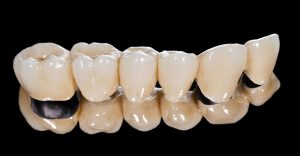 If you are suffering from tooth loss, dental crowns and a bridge are an affordable and convenient option to fill the empty space. As one of the most common methods used to replace missing teeth, more than 15 million people in the United States currently have them in place because they are effective for restoring oral functions while giving you a complete smile. Your family dentist in Plano will create the prosthetic teeth to meet your exact specification to ensure that it is functional while also aesthetically pleasing.

Protect Your Dental Health
When one or more teeth are missing in a row, they must be replaced to prevent future dental health issues. If the space is left unfilled, your adjacent teeth will not have the support they need to stay in place. They will begin to shift toward the gap, causing alignment issues that increases your risk for tooth decay and gum disease. In addition, they will eventually fall out as the supporting structures continue to deteriorate. However, a dental bridge provides them with the support they need to protect your oral health.
Fill the Space with a Natural-Looking Solution
A dental bridge fills the empty space with custom-made prosthetic teeth. They are attached to a metal framework, which is attached to your adjacent teeth to hold it in place. The custom-made dental crowns are placed over the teeth to hold it in place to restore your oral functions.
New advancements in dentistry make them more natural-looking than ever before so you can smile with confidence. The crowns are made of high-quality material to ensure they are durable and reliable for several years to come. They are made to match your exact specifications in terms of size, shape, and color to improve your ability to chew and speak while allowing you to stay confident about the appearance of your smile.
Restore Your Smile Today
A dental bridge and crowns is a viable solution for many patients who are living with tooth loss; however, you will need a consultation with your Plano family dentist to ensure that they are the right option for you. A customized treatment plan is created to fill the empty space in your smile.
To ensure you receive high-quality results to promote the function and appearance of the prosthetic teeth, choose a dentist who specializes in prosthodontics to make an investment in your dental health and quality of life. With the right dental team by your side, you will regain a full, confident, and a beautiful smile with an effective solution to treat tooth loss.
About Dr. Sam Antoon
Dr. Sam Antoon has been a trusted and caring dentist since 1990. He strives to provide high-quality care through the latest dental advancements while making his services convenient and affordable. With office hours to accommodate his patients' schedules, he makes going to the dentist easy. In addition, he keeps costs within his patients' budget as an in-network dentist for PPO insurances. If you have questions about dental crowns and a bridge, contact Antoon Family Dental to schedule a consultation.