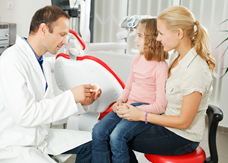 You have the option to pay for dental insurance to receive affordable care to promote the health of your teeth and gums. While you know that it is available to you, you wonder as to whether it is really necessary? You brush and floss your teeth to prevent oral health issues from developing, like tooth decay and gum disease. As a result, you may feel as though you do not really need it. However, if you do not have coverage, you are setting yourself up for financial burden in the future. Preventable issues will develop because you are not seeing your family dentist in Plano regularly.

Protect Your Smile with Dental Insurance
Dental coverage is designed to prevent oral health issues from developing in the first place. This provides a valuable savings opportunity to reduce the risk for costly or invasive procedures in the future. While it is very beneficial, only 64% of Americans have it.
If you have coverage, you gain a powerful tool to protect the health of your teeth and gums. Your policy will allow you to visit your dentist in Plano twice a year for a cleaning and checkup. With regular appointments, it allows you to prevent oral health issues from developing while monitoring your dental health to detect and diagnose issues early.
To rehabilitate your oral health quickly when a problem is found, your policy can cover as much as 80% of the treatment after you have paid your deductible. This helps to keep our out-of-pocket expenses to a minimum, especially when choosing an in-network dentist.
An in-network dentist has pre-negotiated rates with your insurance company to provide services for a lower fee. In addition, they will work on your behalf to file the necessary claims and forms to maximize the value of your policy.
Promote Your Smile Today
Dental insurance is an important tool to have by your side to help promote the health of your teeth and gums. However, not everyone has access to employer-based coverage. If you are in this position, you still have options.
Many dental offices provide in-office discount dental plans to help you get the services that you need for an affordable rate. Depending on the plans that are offered by your dentist, you can benefit from low fees for preventive care, as well as affordable rates for restorative treatments. In addition, they often accept an array of payment options, like third-party financing.
Now, there is no reason to delay getting the care you need. Promote a healthy smile for a lifetime with regular care from your dentist.
About Dr. Sam Antoon
Since 1990, Dr. Sam Antoon has provided exceptional dental care to the community to promote healthy, beautiful smiles. In addition to comprehensive dentistry, he strives to keep services affordable as an in-network dentist while also offering in-house savings plans and various payment options. If you have any questions about paying for the services that you need, please contact Antoon Family Dental today to speak with a member of our team.