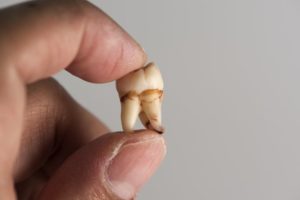 Once you get past the ages of 10 or 11, a tooth loss is not celebrated. In fact, it's a matter of concern. That's why you're worried and disappointed at the mere consideration of having a tooth pulled. You want to be sure that it's an absolute necessity and that all other options have been exhausted. So to help clear any confusion, your dentist in Plano is weighing in to explain why you would need a tooth extraction in certain situations, and how your oral function can be restored.
Reasons for a Tooth Extraction
Although no one wants to give up a tooth, there are times when it's the only option. Here is a list of the scenarios that warrant tooth pulling:
Extreme Tooth Decay – If a tooth has suffered extreme tooth decay and there's not enough of the crown left to be repaired, the only option may be to pull it before more serious health problems arise.
Wisdom Teeth – Your wisdom teeth are the third molars on both sides of your mouth, top and bottom. If they grow in crooked, they can cause misalignment of your other teeth, jaw pain and infection. In such a situation, it is best to remove the tooth.
Trauma to the Mouth – If there is sudden trauma to the mouth that causes a broken tooth, your emergency dentist in Plano may have to extract it if it is beyond repair.
How an Extracted Tooth Can Be Restored
A proficient dentist will be able to restore your missing tooth with full function. If only one tooth has been extracted, the best method to restore it is with a dental implant, which is the surgical insertion of a titanium post into your jawbone. Then your dentist will place a crown on top of it.
In the event that you have several teeth extracted in a row, your options open up to bridges and partial dentures. The bridge can attach to your surrounding teeth or rest on top of dental implants. Partial dentures can also be used and will attach to your surrounding teeth by metal clasps.
If it becomes necessary for you to have a tooth extraction, don't panic because now you know that you have options. There's always a way to restore your smile and full function.
Reach out to your local dentist with any other questions that you may have and be confident in knowing that he will provide the best answers and care available.
About the Author
Dr. Sam Antoon received his Bachelor of Arts degree from Southern Illinois University and then went on to earn his Doctor of Dental Medicine degree from Southern Illinois School of Dental Medicine. Licensed in both Texas and Florida, Dr. Antoon is a member of the American Dental Association and the Fourth District Local Society. He practices at Antoon Family Dental and can be reached for more information through his website.