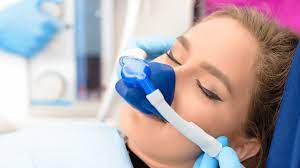 Roughly 75% of American adults suffer from some level of dental fear or anxiety. This means that they experience some kind of fear or nervousness revolving around the sites, sounds, or procedures that take place during dental visits. This can make it difficult for people to receive the treatment they need to maintain healthy smiles. Nitrous oxide is a popular option for many patients, but does it put you to sleep like some other types of sedation do? Read on to learn more about nitrous oxide and whether or not it will put you to sleep.
What is Nitrous Oxide Sedation?
Nitrous oxide is a type of dental sedation that's highly effective, safe, and fast-acting. Nitrous oxide slows the brain and body's responses and reaction time, which puts patients in a deep state of relaxation. It is often referred to as "laughing gas" or "happy gas" since it has intoxicating effects.
Nitrous oxide is administered through a mask that is placed over the patient's nose. They use it to breathe in a mixture of nitrous and oxygen, which forms an odorless gas that makes your limbs feel somewhat tingly or heavy. You should feel comfortable and at peace throughout treatment. It's best used for people who have a fear of dental needles or dental procedures, anyone who has issues with local anesthesia people with sensitive gag reflexes, or those who have problems sitting in the dental chair for a long time.
Will Nitrous Oxide Put You to Sleep?
Since nitrous oxide is conscious sedation, it doesn't cause patients to fall asleep. Though you will be awake and aware of your surroundings throughout treatment, you will remain comfortable and pain-free. Being awake allows you to communicate with your dentist and their team during the procedure so you can let them know if any adjustments need to be made. Even so, many patients who are administered nitrous oxide say they don't remember much about their procedure after the sedation wears off.
The After-Effects of Nitrous Oxide
Once your dentist has completed your treatment, they will remove the nose mask. The effects of nitrous oxide should wear off very quickly. Though you should be good to go within a few minutes, your dentist may ask you to wait at the office for a bit to make sure that you can drive home safely. Once they give you the okay, you'll be free to head home or resume to work, school, or your other responsibilities.
For those looking for a little extra help during their dental appointments, nitrous oxide may be the solution. Speak to your dentist about dental sedation so you can make it through your appointments stress-free!
About the Author
Dr. Sam Antoon is a Plano-based dentist who leads the skilled team of oral health professionals at Antoon Family Dental. He treats patients with respect and listens to their unique needs so he can craft a treatment plan that works for you. He also offers nitrous oxide and other forms of dental sedation to help people who experience dental fear or anxiety get through their appointments. If you want to learn more about the services Antoon Family Dental offers or to make an appointment with Dr. Antoon, visit their website or call their office at (972) 267-5000 to get started.