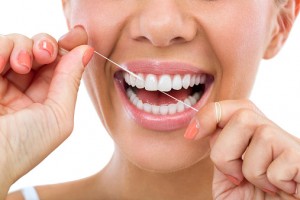 Dr. Antoon and his staff are 100 percent committed to your optimal oral health. And we have all of the preventive, restorative and cosmetic dentistry treatments to do just that. What we don't have, however, is the ability to see you every day—and that's how often your teeth and gums need care. Therefore, we need your commitment to a daily oral hygiene routine that includes brushing and flossing. Most of our patients understand why brushing is important. But how many of you know why flossing is equally important and why doing it correctly maximizes your oral health? Read on to find out.

According to the American Dental Association, everyone should floss their teeth at least once a day. (By the way, that includes children, too. Once your child has two teeth that touch, it's time to floss.) Flossing helps to remove plaque from between your teeth where a toothbrush cannot reach. If plaque is not removed, then two things can happen: plaque can harden to become tartar, which requires periodontal therapy to remove; and secondly the bacteria in plaque and tartar can lead to cavities and gum disease.
Whether you choose to floss at night, in the morning or midday doesn't matter. Likewise, you can floss either before or after brushing with equal effectiveness. The point is you must floss! The couple of minutes spent flossing are well worthwhile.
Flossing Tips from Your Plano, TX, Dentist
Flossing really isn't a difficult task. Just follow these steps and you'll be flossing like a pro!
Don't be stingy with floss. Tear off about a foot-and-a-half. Wind most of the length around your two middle fingers; one finger will release the floss as you move from tooth to tooth and the other finger will take up the used floss.
When you wind the floss, leave about one inch that you can grasp with your forefingers and thumbs.
Choose a starting point, usually behind one of your back teeth, and guide the floss between teeth using a sawing motion.
Be sure to floss all the way down to the gum line, but don't snap the floss against your gums.
Press the floss against one tooth and then the other as you move the floss up and down. Repeat this process until you have flossed between all of the teeth along both your upper and lower arches.
Call Our Office Today
If you would like a demonstration of how to floss properly, then be sure to ask at your next dental checkup. The Plano, TX, dentist will be happy to show you.  Dr. Sam Antoon provides care to patients in the Plano area, including professionals who work in the Shops at Legacy, on Coit Road, Spring Creek Parkway, and on Preston Road.