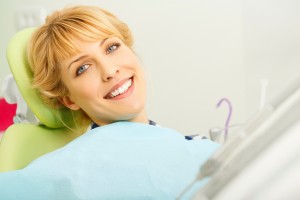 Life keeps all of us busy. The demands of work, family and so many other things can make even the most conscientious of us a little forgetful. Still, some things are too important to overlook. One of these is making regular visits to your dentist in Plano. Skipping these appointments can set you up for a number of dental health problems.
There's a War Going on Inside of You
Your teeth are like a fortress: strong, well-built and intended to do an important task. But, like any fortress, they're subject to invaders. In this case, we're talking about microscopic bacteria that can cause tooth decay and gum disease.
Your teeth do a great job of fighting off these pesky attackers. But they need your help in order to keep doing their job. This includes regular brushing and flossing, eating a well-rounded diet, staying away from tobacco, limiting consumption of sweets and getting plenty of rest.
Enjoying great dental health requires more than performing these basic steps, however  – as important as they are. You also need help in the form of dental cleanings and checkups. Here's why:
Even a thorough job of brushing and flossing will leave behind deposits like plaque and tartar where harmful bacteria can find a place to hide. The only way to thoroughly remove these substances is with a professional cleaning..
Dental health problems have a habit of sneaking up on people when they least expect them. To see what we mean, just think of all the times a toothache has caught you unawares. The best way to prevent these unforeseen problems is to have your dentist perform a thorough examination. He or she can catch them early before they become severe.
One of the best ways to encourage friends and family members to adopt good habits is to model them yourself. Keeping your dental appointments will help others to safeguard their own health.
Dentistry is an ever-advancing branch of medicine. Advances like digital imaging make regular checkups not only easier but more effective than ever before. But the only way to take advantage of these benefits is to see your dentist.
If you're like most of us, then you pay for your dental coverage out of your hard-earned dollars. Making regular checkups a part of your life is the only way to get a fair return on this valuable investment.
Having Trouble Paying for Dental Visits? Help Is Available
Some of us put off going to the dentist because of concerns over the expense. Fortunately, help is available. Here are some options to consider:
Many clinics offer reduced-cost care for people who meet certain income requirements. Check online or ask a local community worker for resources in your area.
Your dentist may be willing to set up extended payment arrangements for basic services like cleanings, checkups and fillings. The office manager can tell you more.
Private dental coverage is available from many insurers. Check with your agent to find out about benefits and premiums. The cost may be lower than you think.
Seeing your dentist in Plano is one of the smartest investments you can make. The time and effort you put forth will pay for themselves in terms of better oral health and peace of mind. We wish you and your loved ones lots of happy smiles, both now and down the road.
About the Author
Dr. Sam Antoon has been practicing dentistry for almost 30 years. He's a proud member of the American Dental Association and the Fourth District Local Dental Society. You can reach his office online or by calling (972) 267-5000.