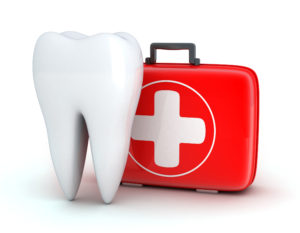 Most people do a pretty good job of brushing, flossing and seeing their dentist in Plano on a regular basis. But have you ever thought of keeping a dental emergency kit on hand for unexpected situations? A little preparation can make all the difference when unforeseen circumstances come knocking at your door.
Contents of a Basic Dental Emergency Kit
You can find ready-made kits online or at many pharmacies. However, assembling the supplies yourself can save you money. It can also ensure that you have just the right item on hand when you need it the most. Here are some of the supplies you'll need:
Medical gloves. Not only do these help to prevent infection, they can protect the caregiver's fingers from getting nicked by a sharp tooth.
A dental mirror. This is an essential item to have on hand, just in case you need to administer self-care.
Benzocaine-based dental cream or gel. You'll find this on the market under trade names like Orabase®. It's great for relieving dental discomfort until you can get to the dentist.
Dental floss. This is handy for removing objects stuck between the teeth, such as tooth fragments.
Oral pain relievers. Having a little ibuprofen or acetaminophen in your kit is always a good idea.
An ice pack. This can be something as simple as a heavy-duty self-sealing plastic sandwich bag that you can fill with ice cubes. Cold is a great way to reduce swelling and discomfort.
A copy of your dental insurance card. You can never be sure what provider you may need to see in an emergency. Keeping proof of coverage on hand can spare you from needless stress. Just be sure to replace the card if you update your insurance policy.
Here are some other items you might want to include:
A coloring book and crayons. Having something to do while waiting to see the dentist can help to keep a young patient's mind off their discomfort.
Sugar-free gum or candy. These can serve as a short-term filling for cavities.
A contact list with phone numbers and email addresses. You can store this information in your phone or other mobile device, of course. But it never hurts to have a physical copy on hand just in case. Make sure you include contact information for your family dentist in Plano.
How to Store Your Emergency Dental Supplies
Just as important as the supplies themselves is the storage container that keeps them safe. Here are some options to consider:
A toiletries bag. You can find these online or at local retailers. They're intended for holding personal supplies while traveling. But they can serve just as well for your dental emergency kit.
A backpack. An old school bag or hiking pack will make a handy case for your emergency dental kit, with plenty of room left over for other essentials.
A shoe box. Most of us have one or two of these stashed in our closet or storage area. They're just about the right size for your kit.
Whatever container you use, it's a good idea to mark the outside with a high-profile label so it's easy to find. Store the kit where you can grab it at a moment's notice.
Dental accidents can happen at any time. But having an emergency kit on hand will keep you prepared if and when they occur. That's the kind of insurance that pays off with real peace of mind.
About the Author
Dr. Sam Antoon earned his DMD degree from Southern Illinois School of Dental Medicine. He keeps his office up-to-date with the latest equipment and supplies. You can reach his office online or by calling (972) 267-5000.