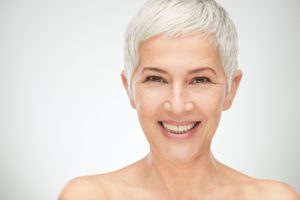 Your teeth play a significant role in maintaining your overall health because they are integral in the digestion of your food. Furthermore, they support your facial structure and allow you to speak with clarity. When there are frequent lapses in your oral health, the possibility of needing dentures heightens. As you read on, you'll learn about 6 warning signs that you may need dentures in Plano.
Warning #1 – Inconsistent Dental Visits
One of the simplest ways to maintain excellent oral health is to visit your dentist every six months for preventive care. The combination of examinations, cleanings and consultations contribute to better oral health and the longevity of your teeth.
If you haven't remained current with your visits, there is a chance that your teeth and gums aren't as healthy as they can be, which could leave you more vulnerable to tooth loss.
Warning #2 – Loose and Shifting Teeth
After all your adult teeth emerge, there should be no more shifting or loose teeth. Thus, if you notice this, it could indicate that you have a gum health issue that has caused the tissue to recede and a loss of bone.
Warning #3 – Chronic Toothaches
A toothache is often a sign of advanced decay due to bacteria accumulation. The pain is brought on by the bacteria entering the sensitive inner tooth where the nerves and canals are housed.
If the condition is allowed to further develop, there may not be enough healthy material left to salvage the affected teeth. Thus, extractions may be the only remedy.
Warning #4 – Missing Teeth
If you already have missing teeth, then it's obvious that you need a form of replacement. Dentures provide a way to prevent further tooth loss by evenly distributing the pressure applied when you bite into food.
Warning #5 – Frequent Indigestion
As mentioned earlier, your teeth play an important role in digesting your food. If you have frequent bouts of indigestion, it could be attributed to your tooth loss, which prevents you from properly chewing your food.
Warning #6 – Lost Confidence
Studies show that at least a third of the people you meet will notice the condition of your smile before anything else. Thus, if you have missing teeth, it can leave you feeling more self-conscious and insecure.
If any of the above applies to you, then it may be time to consider dentures. Your dentist in Plano can revamp your smile with either a full set of dentures or partials to leave you with a fully functional set of teeth.
About the Author
Dr. Sam Antoon earned his dental degree from the Southern Illinois University School of Dental Medicine. Since then, he has stayed abreast of the latest changes and breakthroughs in dentistry by taking continuing education courses. Using state-of-the-art equipment, Dr. Antoon replaces patients' missing teeth with full or partial dentures at Antoon Family Dental, and he can be reached for more information through his website.