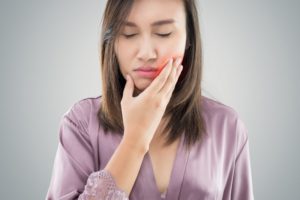 One way of repairing a tooth that has been damaged from decay is to have it restored with a filling. If the latter is lost or broken, though, it's considered as a form of dental trauma, and the tooth is left vulnerable to food particles and new bacteria entering the area. Thus, your emergency dentist in Plano explains what you should do if this happens so your oral health can once again be restored.
How to Respond to a Lost or Broken Filling
The first thing to keep in mind about a lost or broken filling is the importance of not panicking. If you can locate the filling that has fallen out, you can temporarily re-insert it using dental cement or toothpaste.
For a broken filling, if possible, you can also apply the same compounds to stabilize the situation. The next step, though, should be to reach out to your emergency dentist so you can be seen.
How Your Dentist Can Help Out
Here are the options available for restoring your tooth:
New Filling – If enough tooth material remains, your dentist may be able to simply place a new filling.
Root Canal Therapy – If the lost or damaged filling has left a nerve exposed, then a root canal may be required to restore the tooth to normal.
Tooth Extraction – A tooth extraction is always the last option for a dentist. However, if the material loss is too great, the only option remaining may be to extract the tooth.
What Causes Fillings to Break or Fall Out?
One of the more common causes of a dental filling breaking or falling out is the development of a new cavity beneath it. Another contributor is attempting to bite into hard foods that cause the filling to dislodge.
If a filling breaks or falls out from normal usage and there is no cavity beneath it, then it usually indicates that it is worn. The changes in temperature that can occur inside the dynamic environment of the mouth and around the tooth can contribute greatly to the decline of the filling. This can cause it to expand and contract, which is a more common problem with amalgam restorations.
If you find yourself with a broken or lost filling, your dentist in Plano can help to restore your normal functionality and oral health. And once you've regained normalcy, you'll receive the expert instruction you need to prevent the problem from happening again.
About the Author
Dr. Sam Antoon has been providing patients with the best in dental care for nearly 30 years. Still, the Southern Illinois University School of Dental Medicine graduate focuses on fine-tuning his skills to remain current with the latest breakthroughs in dentistry. Dr. Antoon helps patients prevent dental emergencies and also provides expert care to restore their oral health at Antoon Family Dental. He can be reached for more information through his website.