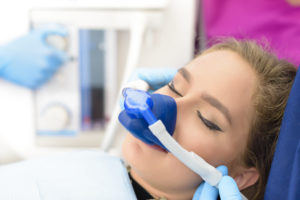 According to the National Institutes for Health, dental pain and anxiety are major contributing factors to why some people avoid seeing the dentist even when they are in desperate need of dental treatment. Leaving dental issues untreated can lead to more serious dental and general health problems later down the line. Fortunately, there a range of medications and actions that can prevent discomfort and protect one's oral health. Here is some information from an emergency dentist in Plano about how to manage dental pain and anxiety.
Topical Anesthetics Help Manage Dental Pain
Topical anesthetics help ensure dental procedures are free from discomfort from the very first moment. Applied with a swab, dentists utilize topical anesthetics to numb the area in the mouth or gums where a dental procedure will take place. Only after the topical anesthetic has numbed the area does the dentist then use a needle to inject a local anesthetic to the area and begin treatment.
3 Types of Sedation that Ease Dental Anxiety
According to research reviewed by faculty at the Columbia University College of Dental Medicine, up to 15% of Americans avoid visiting the dentist each year because of anxiety and fear. For patients who feel anxious just thinking about climbing into the dentist's chair, there are 3 types of commonly-used sedation that can help ease their stress:
Oral Sedation
Nitrous Oxide
IV Sedation
Each type of sedation dentistry treatment offers different pros and cons, so have a conversation with your dentist about which is best to help you reduce your dental anxiety.
How to Handle a Dental Emergency
The worst dental pain is likely to occur outside the dentist's office in the form of a serious mouth injury. If you experience a dental emergency, your first step should be to call an emergency dentist. However, there are some additional steps you can take to ease the pain and prevent further damage as you make your way to the dentist's office, such as:
Knocked Out Tooth – If possible, place the tooth back in its original socket and hold it there. Otherwise, place the tooth in a small container with milk until you reach the dentist's office
Broken Tooth – Save and rinse the broken tooth pieces and bring them with you to the dentist's office. Rinse your mouth with warm water and use a bag of ice to reduce any swelling
Objects Stuck in Your Teeth – Use dental floss – not a pointed instrument – to try to remove the foreign object from between your teeth
Severe Toothaches – Rinse your mouth out with warm water
Don't let fear stop you from taking care of your teeth. Whether you are suffering from dental anxiety or severe pain from a dental emergency, an experienced dentist in Plano can help.
About the Author
With nearly 30 years of experience, Dr. Sam Antoon knows how to put patients at ease from the moment they walk through the office doors. Since graduating, he has completed rigorous continuing education courses to stay up to date on the latest scientific breakthroughs and technologies. For more information on the comprehensive dental services provided by Dr. Antoon, visit the Antoon Family Dental website or call the office at 972-267-5000.