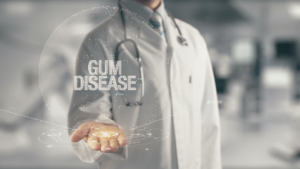 The Centers for Disease Control and Prevention estimates at least 50% of adults have a form of periodontal disease, an infection that develops in the gum tissue. While it is treatable in the early stages, it often goes undetected. As it progresses in severity, it leads to serious complications, like tooth loss. In fact, it is a leading cause of missing teeth in the U.S. If you have found yourself among those who have an incomplete smile, you can fill the spaces with the help of your implant dentist in Plano. Even those who have gum disease can enjoy dental implants.

Am I Candidate for Dental Implants?
Dental implants have become the most preferred solution to replace missing teeth because they provide over a 95% success rate. Their success relies on their ability to properly fuse to your jawbone and remaining infection-free. As a result, you will not be a candidate for them if you have active gum disease, but that does not mean they are not right for you in the future.
How Can I Get Dental Implants?
Gum disease will cause your underlying jawbone to deteriorate over time. Dental implants rely on your jawbone's density to support them. If it has been compromised, you may require bone grafting prior to having your dental implants placed.
To be a candidate for bone grafting and dental implants, you cannot have gum disease. Therefore, you will need the help of a periodontist to stop the infection before beginning your journey to a complete smile.
With the right foundation, you can replace your missing teeth with dental implants in Plano despite your history of periodontal disease.
Will My Dental Implants Be Successful?
With the right aftercare, like maintain your oral hygiene, dental implants have the potential to remain in place forever. Their long-term success relies on your ability to remain infection-free. Since you have a history of gum disease, you will need to be proactive about your oral health to prevent the infection from reoccurring.
It is best to brush and floss your teeth and the implants at least twice a day. Pay extra careful attention when cleaning around the abutments and posts to remove as much bacteria and plaque as possible. In addition to your home oral hygiene habits, visit your dentist twice a year for a cleaning and checkup.
Even with the best preventive measures in place, an infection may still occur. If you develop any pain or swelling of your gum tissue, do not wait to see your dentist. With quick intervention, the infection can be stopped to prevent complete implant failure.
Complete Your Smile Today!
If you have periodontal disease, you can get dental implants with a customized treatment plan. Do not let an infection stop you from getting a complete smile.
About Dr. Sam Antoon
Since 1990, Dr. Sam Antoon has provided comprehensive dental care to the community. Through his extensive training and qualifications, he offers advanced services, like periodontal therapy and dental implants. He can help you restore your smile. Contact our office today to schedule your consultation.