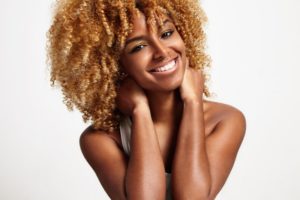 Everyone's smile has the potential to look fantastic. Instead of letting a couple of imperfections stand in your way of boosted self-confidence, find out how cosmetic dentistry can benefit you. Whether you're looking to whiten your teeth or repair damaged teeth, a dentist in Plano can help. You don't have to just wish for a more beautiful smile, because you can get one! Read on for three smile makeover solutions that can offer you fast and fantastic results.
Teeth Whitening to Wipe Away Years of Discoloration
You may have tried over-the-counter kits to get rid of the yellow tint covering your smile. After weeks of not getting the results you've been promised, you want to try a proven treatment. Professional teeth whitening by your cosmetic dentist in Plano can erase stains left behind from smoking, coffee, and aging. In less than an hour-long appointment, you'll be impressed that your smile is up to eight shades brighter. Using a concentrated, safe, and effective high-powered whitening gel and a special light to activate it, you can feel confident to show off your improved grin.
Direct Bonding to Complete Your Smile
Most people throughout their lives have chipped, cracked, or somehow damaged a tooth on accident. Even though it may not be bothering you physically, it can have an impact on your self-esteem and even your oral health. Dental bonding is a cost-effective cosmetic procedure that utilizes a composite resin made from fine particles of glass and acrylic to reform your teeth.
In a single office visit, your once-damaged teeth will appear restored and beautiful again. When you leave your teeth damaged, it can create a hard-to-get-to area in which plaque and tartar can hideout. It can also leave your tooth more susceptible to oral health problems like infection and cavities.
The Closest Restoration to Your Natural Teeth, Dental Implants
Are you missing one or multiple teeth? Not only can this provide a challenge when you go to complete daily functions like chewing and speaking, but it can also impact your jawbone and oral health. When your jawbone isn't being stimulated due to the fact that there's no longer the root of a tooth there, it can cause that area to slowly deteriorate. Additionally, when you're missing a tooth, it can cause your remaining teeth to shift in order to fill the gap, creating crowding and misalignment.
Instead, you can get your mouth restored with dental implants. This restorative option utilizes the most advanced technology and techniques and is the closest option to your natural teeth. They're crafted from natural-looking dental porcelain and fused with your jaw to stop erosion and promote great oral health. Plus, you'll be able to take care of them just like you would with your natural teeth, by brushing and flossing each day.
To start your journey towards a complete and beautiful smile, schedule a consultation with your cosmetic dentist in Plano. They can develop an individualized treatment plan that helps you achieve your desires for your grin.
About the Author
Dr. Sam Antoon has been optimizing his patients' oral health and restoring their smiles since 1990. He is dedicated to keeping up with the latest advancements in his field by completing continuing education courses. He offers a variety of cosmetic solutions for patients who are looking to improve the look of their smile. For questions or to schedule a consultation, visit Antoon Family Dental's website or contact 972-267-5000.