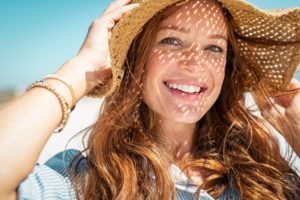 In a world where everything is documented and posted on social media, life can be hard when you're not confident in your smile. It can make you want to avoid going to certain events because you know people will post pictures of you. You might skip out on a family member's graduation, or a friend's wedding, or even a vacation to the beach. There's no need to live your life like that, not when your dentist in Plano offers 4 ways to make your smile look amazing this summer.
Brighten Your Smile with Teeth Whitening
Years of smoking and ingesting dark-colored foods and beverages can seriously stain our teeth to the point where we might even be afraid to smile. Your cosmetic dentist in Plano can erase those surface stains with Zoom! Teeth Whitening. Simply get comfy in the dental chair and we'll apply a whitening gel to your teeth and activate it with a low-heat light. In only an hour or so, your teeth will be several shades brighter. If you have an important event coming up and you want quick results, in-office teeth whitening is a great option for you.
We also offer take-home whitening kits if you would prefer to achieve more gradual results on your own time and in the comfort of your own home. Your dentist can create customized whitening trays that you wear at home, and prescribe a bleaching gel much stronger than anything you can find in stores. By wearing the trays and gel for a certain amount of time each day, as decided by your dentist, you will have a dramatically brighter smile in just one to two weeks.
Conceal Flaws with Porcelain Veneers
If you have chips, cracks, stains, or gaps in your teeth, porcelain veneers are a long-lasting way to fix those problems. Veneers are thin sheaths of dental porcelain that are placed over the front surfaces of your teeth to mask any flaws. To make room for the veneers, your dentist will remove a layer of enamel from the front of your teeth. Once placed, your veneers will hide flaws in your smile for years to come.
Discreetly Protect Your Teeth with Metal-Free Restorations
To protect damaged teeth, your dentist can place a restoration, such as a crown, over them. Restorations used to be made entirely of metal. This made it obvious that they weren't natural teeth, and they weren't as comfortable. These days, your dentist uses crowns and bridges free of metal and typically made from porcelain. No one else will be able to tell you even had work done!
Fix Multiple Problems at Once with Direct Bonding
Maybe you have multiple flaws in your smile that you want to fix all at once, but you don't want to invest in porcelain veneers. Direct bonding might be the right option for you. Your dentist will use a composite resin material, which is actually the same material used in fillings, to craft the tooth into the desired shape and fix any problems. If you want a quick fix to several flaws at once, you might benefit from direct bonding.
No matter what might be wrong with your smile, your dentist in Plano has a solution for you. Contact your dentist today to learn how they can make your smile beautiful for the summer and beyond!
About the Author
Dr. Sam Antoon achieved his doctorate at Southern Illinois University's School of Dental Medicine. After working at a group practice for a few years, he opened Antoon Family Dental in Plano, TX more than 20 years ago. He loves getting to know patients and watching as their smiles improve. If you would like to learn more about how he can help your smile shine brighter, click here or call (972)-267-5000.