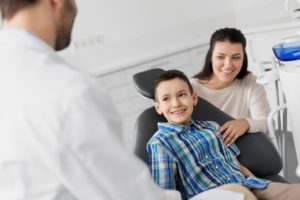 Is your family ready for the new school year? Now's the time to be shopping for new clothes, school supplies and books, as well as everything else that needs to be taken care of before classes start again. Hopefully, you've already checked off "a visit to the dentist in Plano"; if you haven't, now may be your best opportunity for a while!
Why Should You Take Your Child to the Dentist Before School Starts?
Everyone knows to see the dentist at least twice a year but making time for that appointment is another matter altogether. Between tests, in-class assignments and extracurricular activities, there's rarely a convenient time to pull your child out of class without needing to worry that they'll have to make it up later. You may be able to get a time before or after school, but such time slots are obviously very popular and can sometimes be hard to get.
By making the appointment during the summer while your child still has plenty of free time, it's easier to find a time that's convenient for your family; building your schedule will be much easier as a result. Furthermore, when your child doesn't have schoolwork to worry about, it's more likely that they'll be relaxed during their dental visit, making it much more pleasant for them – and you!
 Why are Regular Dental Visits So Important?
Your child's dental appointments are focused on prevention. Cavities are a constant threat; the mouth is a breeding ground for the bacteria that feed off of sugar and secrete the acids that cause tooth decay. You can avoid many oral health issues with regular brushing and flossing, of course, but it's not always enough. Many children will have trouble cleaning all the hard-to-reach spaces in their mouths, and any plaque they don't remove hardens into tartar that won't come off without special dental tools.
Your child's dentist can provide a thorough cleaning that reaches all the nooks and crannies that might have been missed at home. They can also find tooth decay in its earliest stages, when it's far easier to treat; leaving a cavity alone may ultimately result in a root canal or a tooth extraction, which can be uncomfortable for your child and may require them to take time off school. It's especially important to check for decay at the end of summer after a few months of indulging in sugary snacks and drinks.
Your child's smile is made to last, but only if it gets proper care. If you haven't taken them in for an appointment and want to get it out of the way before the start of the academic year, ask yourself, "Where's a good dentist near me?"
About the Author
Dr. Sam Antoon has been a practicing dentist for almost 30 years. In addition to using the latest tools and techniques, he always takes the time to build trusting relationships with his patients. He especially strives to provide a comfortable, gentle experience for child patients. To schedule an appointment at his practice, Antoon Family Dental, visit his website or call (972) 267-5000.