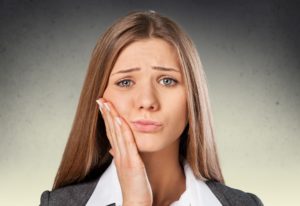 You may never expect it to happen to you, but dental emergencies occur more often than you might believe. In fact, 1 in 6 Americans has one every year. Often, they take the form of a broken or chipped tooth. Whether from an injury, a weakened tooth finally breaking, or another issue, you need to see your emergency dentist right away. Your dentist will restore your smile back to its previous state using a personalized treatment plan. Here are some ways to make the situation a bit easier at home while you wait for your appointment.

Handling a Chipped Tooth
A tooth often breaks without any warning. As with any emergency, time is of the utmost importance. If you wait too long to have your tooth repaired, more damage can occur, which could result in the loss of your tooth.
While you wait for your appointment, there are several things you can do to make the situation easier, including:
Cover any sharp pieces with dental wax from the oral care section at the store.
Avoid overly hot or cold foods and drinks.
Use an over-the-counter pain reliever.
Apply a cold compress to the outside of the face to manage any swelling.
Eat soft foods.
Don't chew on a broken tooth.
Treatment Options for a Chipped Tooth
Depending on the extent of the break, there are several treatment options to fix a chipped tooth. Your dentist will perform a comprehensive exam to determine the best solution, which may include:
Dental Bonding: A composite resin material is applied to match your enamel and sculpted into the perfect shape to restore your tooth's appearance and function.
Dental Veneers: A thin shell is bonded over the front surface of a tooth that instantly covers the chip or fracture. This is effective for treating minor breaks.
Dental Crown: If a break is significant, you may need a dental crown. The custom-made cap is bonded over the entire visible surface of a tooth down to the gum line. Your dentist may recommend you also have a root canal to stop the risk of infection before having the crown placed on your tooth.
Extraction: Unfortunately, there are times when a break is too severe, and your tooth can't be saved. Your dentist will take the time to explain your replacement options, such as using a dental implant.
Preventing a Chipped Tooth
Although you can't fully prevent a tooth from breaking, there are several things you can do to reduce your risk, such as:
Maintain your oral hygiene habits to prevent tooth decay.
Visit your dentist regularly to monitor for decay or small fractures.
Wear an athletic mouthguard if playing sports.
Don't use your teeth as tools.
Don't chew on inedible objects.
Save Your Smile Today!
While a chipped tooth can be stressful, you may be able to avoid one entirely with the right oral care. If one should catch your offguard, contact your emergency dentist right away to save your smile.
About Dr. Sam Antoon
Dr. Sam Antoon provides modern dental care using the latest advancements in dentistry. Supported by over 30 years of experience, he takes the time to create individualized solutions to ensure your teeth last for a lifetime. If you're having a dental emergency, Dr. Antoon is here for you. Contact our office today to schedule an appointment.