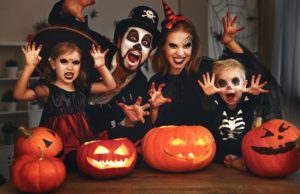 Halloween is an exciting time of the year. The fun costumes and spooky decorations are a highlight of your child's day as they are surrounded by nearly every candy imaginable. Although it may only be one day a year, an evening of overindulgence can open the door to an unexpected surprise next time your child visits their dentist. You can keep their mouth healthy without dousing the fun by following a few easy tips throughout the Halloween season.

1. Schedule a Dental Appointment
Nothing will ruin a night of trick-or-treating faster than a toothache. To ensure there isn't a hidden complication lingering in your child's mouth, schedule an appointment for a cleaning and checkup. Their dentist will perform a comprehensive checkup to detect any issues while they are still small, like a cavity. They will also clean their teeth to remove any plaque or tartar accumulations that can lead to a problem down the road.
2. Protect Their Teeth
Long before Halloween, you can give your child's smile an added layer of protection against tooth decay with dental sealants. The clear plastic barrier prevents cavity-causing bacteria from reaching their enamel. When applied to the back molars, it significantly reduces your child's risk of tooth decay. Applying them before Halloween will strengthen their smile against sweet treats and chewy candy.
3. Pick the Right Candy
Believe it or not, all candy isn't the same when it comes to their cavity-causing potential. Sticky and chewy candies tend to cling to the teeth and can be difficult to remove from their crevasses; whereas, chocolate washes away fairly easily. Encourage your child to choose chocolates over taffy or sticky candy.
4. Snack Smart
Your child will be surrounded by cakes, cookies, and many other sweet goodies, but it's important to encourage them to snack smart. Fresh fruits, vegetables, and low-fat dairy products are excellent alternatives.
5. Only a Couple of Pieces
Although your child would love to eat their entire candy stash in one night, encourage them to pick one or two pieces and put the rest away for another day. Limit how many pieces they eat to only a couple a week, and make sure they brush and floss their teeth well afterward. You can remove the temptation from your home by donating the rest of their candy to a local food shelter.
Smile Brightly for Halloween
Halloween only comes once a year. Don't let one evening of fun create lasting consequences for your child's dental health. Be proactive and safeguard their smile.
About Dr. Sam Antoon
Dr. Sam Antoon is a family and children's dentist in the community who's dedicated to delivering world-class services. Since 1990, he's provided the personalized solutions families need to create generations of lasting, healthy smiles. If you or your child need a semi-annual appointment, don't wait. Contact our office today to schedule a cleaning and checkup.