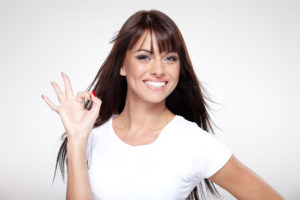 A new year often marks new beginnings, as men and women across the country try to exercise more, eat healthier or break the bad habit that has been holding them back from living the life that they want. For many, improving the appearance of their smile can boost their self-esteem and enhance their professional and social profile. Are you 100% happy with the way your smile looks? Make 2020 the year in which you partner with a dentist in Plano to finally achieve the perfect smile of which you have always dreamed. Here are 3 cosmetic dentistry procedures that can dramatically transform your smile this year.
#1: Direct Bonding
If you want to correct chipped, cracked, gapped or shorter than average teeth, than talk with your dentist about simple and affordable dental bonding.
Dental bonding involves applying tooth-colored composite resin to restore missing or damaged enamel. Your dentist can easily sculpt the resin to conceal a wide variety of dental flaws. Dental bonding resin is hardened using a special curing light.
Dental bonding offers numerous advantages, including:
Minimally invasive and does not require any enamel removal
Requires as few as one trip to the dentist
Results last up to 10 years with proper care
Easy to maintain and touch up in the future
#2: Porcelain Veneers
In just two easy trips to a dentist in Plano, you can dramatically improve the appearance of your smile with porcelain veneers. Thin, custom-designed sheaths that are affixed to the front of teeth, porcelain veneers are an effective way to conceal minor dental flaws such as chipped, cracked or stained teeth.
Many patients choose porcelain veneers because of their translucent quality – similar to enamel – that enables them to blend in seamlessly among natural teeth. Other advantages of porcelain veneers include:
Whiter smile – Porcelain veneers can turn your smile several shades brighter and are more resistant to stains than natural teeth.
Quick recovery – You can immediately continue on with your day after the placement procedure is complete.
Long-lasting results – Veneers can last up to 15 years with proper care.
#3: Professional Teeth Whitening
A white smile can boost your confidence and light up every room that you walk into. Only professional teeth whitening can deliver stunning results – over-the-counter products just don't contain the same level of high-powered whitening agents that dental professionals use.
Zoom! teeth whitening at a dentist's office can deliver impressive results in just one hour. If you prefer to whiten your teeth on your own schedule, ask your dentist about take-home teeth whitening kits that use high-grade whitening gel and customized mouth trays.
Smile Makeover
What if you have more than one aspect of your smile that you want to improve? If you want to totally transform and enhance the appearance of your smile, then you should talk to your dentist in Plano about a smile makeover.
A smile makeover is whenever an individual undergoes multiple cosmetic dentistry procedures at the same time. By combining any of the procedures above – or others such as gum recontouring, non-metal restorations, etc. – you can conceal or correct all your dental flaws and achieve the beautiful smile you desire.
Grab the new year by the horns and finally transform your smile! Talk to a cosmetic dentist in Plano today to get started.
About the Author
Dr. Sam Antoon has 30 years of experience helping Plano residents achieve the beautiful smile of their dreams. He offers a range of cosmetic dentistry treatments at his conveniently-located private practice, including direct bonding, porcelain veneers and professional teeth whitening. Patients ready to transform their smile in 2020 can visit the Antoon Family Dental website or call Dr. Antoon at 972-267-5000.