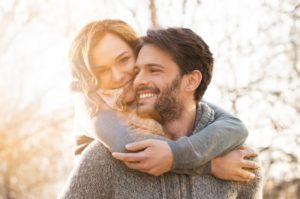 Happy Valentine's Day! This time of year is all about celebrating love and showing others how much you care about them. As you choose between different flower bouquets and heart-shaped boxes of chocolates, don't forget to make good decisions for your oral health! Whether you're celebrating Valentine's Day with family, friends, someone special, or your pet, you'll want your smile looking and feeling its best! Here are some quick tips from your family dentist on how to show your teeth some love this February.
Keep Your Breath Fresh During Your Dinner Plans
Whether you're going out to a fancy restaurant or enjoying a lovingly prepared homemade meal, don't let bad breath ruin your night. While sharing a delicious seafood or Italian dinner with your date can be romantic, sharing the bad breath it may cause is decidedly not. To keep your breath fresh all night long, keep a small toothbrush or bit of floss with you. After savoring your meal, take a quick moment to excuse yourself and clean out any leftover food particles hiding between your teeth or in the back of your mouth. For an extra boost, you can pop in a mint or take a quick swish of mouthwash to give your smile an extra clean, fresh feeling.
Indulge Your Sweetheart's Sweet Tooth the Healthy Way
Although sticky, chewy, sugary sweets may hold a special place in our hearts, it's important to remember that they can be dangerous for teeth and dental work. However, that doesn't mean you can't indulge in some tasty treats during this sweet time of year! Here are the best choices for you and your loved one's smile:
Fresh fruits: Instead of flowers, why not say "I love you" with a bouquet of creatively arranged fresh fruits? You can try your hand at cutting up the fruits into shapes like hearts or flowers, or simply present them in a beautiful bowl or container.
Dark chocolate. Are you surprised to see chocolate on this list? Dark chocolate contains some beneficial nutrients and antioxidants, and it's less sugary than white or milk chocolate. Be sure to pass up any chocolates with sticky or chewy fillings that could stick to your teeth.
Soft candies. While conversation hearts and pink lollipops may be a popular choice on Valentine's Day, these hard candies wear down the enamel and weaken your teeth. Softer choices like peppermint patties and peanut butter cups are safer for your smile.
Commit to a Great Relationship with Your Oral Health
To really show your teeth some love this February, make a commitment to getting a dental checkup and cleaning twice a year. Regular, routine visits are the best way to keep your oral health on track and your smile sparkling. Your dentist can spot issues like cavities, gum disease, and other health conditions before you can see or feel them. This allows them to treat little issues before they become larger problems that need extensive dental work. With regular checkups and the other tips listed above, you can keep your smile happy and healthy all year long.
About the Author
At Antoon Family Dental in Plano, TX, we want to help you fall in love with your smile. With cozy patient amenities and state-of-the-art technology, we are proud to provide excellent oral healthcare while prioritizing your comfort. Whether you need a quick checkup, more extensive dental work, or anything in between, Dr. Sam Antoon can help you achieve and maintain optimal oral health. To learn more tips for taking care of your teeth, he can be contacted at his website or (972) 267-5000.