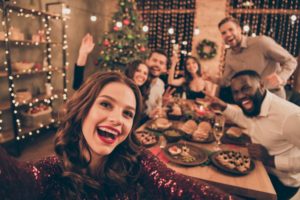 The upcoming holiday season can be hard on your teeth, what with all the sugary sweets available. There are ample opportunities to damage your pearly whites during the holiday season. Fortunately, a dentist in Plano is here with some holiday tooth tips to keep your oral health in good condition during this dessert-filled month.
Eat Sweets with Your Meal
If possible, eat your holiday desserts with your meal, as opposed to some time afterwards. The production of saliva increases when you eat meals, which will help wash away the excess sugar so as not to cause cavities.
Drink Plenty of Water
Water rinses out your mouth and helps create saliva, which not only washes out food particles and bacteria, but actually makes your teeth stronger, fortifying them against decay.
Eat Lots of Fruits
The fibrous skin of fruits like apples, strawberries, and kiwis can naturally scrub your teeth clean when you eat them. This is why it's a great idea to finish your meal or snack off with a yummy piece of fruit.
Eat Your Vegetables
Veggies like carrots, broccoli, cauliflower, and cucumbers also help clean your teeth and gums just by eating them. They help remove food particles that, when left behind, turn into plaque that cause gum disease and tooth decay.
Add Cheese to Your Holiday Plates
Cheese is naturally one of the most mouth-healthy foods out there. It contains cavity-fighting agents as well as vitamins that strengthen the teeth, providing an extra boost of protection in the fight against decay. The high levels of phosphate and calcium in cheese help balance out the pH levels in the mouth, make tooth enamel stronger, produce saliva, and kill bacteria that cause cavities and gum disease.
Get Plenty of Rest
Even if you're busy during the holiday season, try and get at least eight hours of sleep a night. Getting enough sleep boosts your immune system, increasing your ability to fight off – you guessed it – cavities and gum disease.
Use a Nutcracker, Not Your Teeth
Never use your teeth to crack nuts, no matter how convenient it might be or how cool you think it might look. Your teeth should only be used to chew food, not to crack nuts, hold bags, or open stubborn packaging. Nutcrackers were made to crack nuts for you – it's right there in the name!
With the holiday season in full swing, it can be tempting to not worry about taking care of your dental health until the new year. That, however, can set you up for lots of oral health problems come January. Instead, follow these tips to keep your mouth healthy this holiday season!
About the Author
Dr. Sam Antoon opened Antoon Family Dental in Plano, TX more than two decades ago and has never looked back. His favorite part of being a dentist is chatting with patients and forming relationships with them while helping them achieve and maintain their healthiest possible smiles. He is a member of the American Dental Association, the Texas Dental Association, and the Fourth District Dental Society. For more information, or to schedule an appointment with your dentist in Plano, click here to contact Antoon Family Dental.