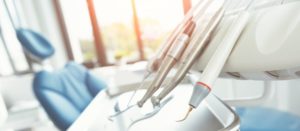 As dental practices move to reopen and continue to provide emergency care, dental patient safety remains a top priority. You may be nervous about scheduling a dental appointment during such an uncertain time, but the good news is that dental practices already had extremely strict sanitation protocols that are being emphasized now more than ever. In this post, you'll learn 4 reasons why you'll have little reason to worry about infectious diseases the next time you visit your dentist.
1. Proper Hand Hygiene
The most basic of precautions are typically of the upmost importance. The CDC emphasizes the need for maintaining excellent hand hygiene during dental work. In particular, a dentist's hands should be completely free of blood, body fluids, and other visible contaminants before they begin a procedure. Handwashing needs to occur at the beginning and end of each treatment or examination. Depending on the situation, either soap and water or an alcohol-based hand rub may be used.
2. Maintaining a Sterile Environment
All environmental surfaces in the treatment area (including the chairs, light handles, bracket trays, and so on) need to be completely cleaned according to established policies and procedures. Switches should be placed over dental chairs and computer equipment to protect them from contaminants; for surfaces without such barriers, a hospital disinfectant should be applied after each patient leads. Every cleaning product is different, so your practice should follow whatever instructions were provided by the manufacturer to the letter.
3. Sterilizing and Disinfecting Dental Tools
Some of the tools used by your dentist, such as dental floss, are disposable; they can simply be thrown out once used. However, many tools, such as scalers and dental mirrors, will be used over the course of multiple appointments, and as such they need to be cleaned on a regular basis. Someone at the practice will be in charge of reprocessing contaminated dental equipment in order to ensure that a tool is not reused until it has been thoroughly cleaned via the appropriate means.
4. Protective Clothing
You've probably seen more people wearing facial masks on the street than usual, but such protection has long been standard at dental practices. To ensure that they don't contract or spread infectious agents, dentists need to wear masks, gloves, eye wear, face shields, and protective clothing (such as disposable gowns) whenever there's a chance of coming into contact with blood or body fluids of any kind.
You can call your dentist and ask about the additional safety protocols that they might have in place to address COVID-19 concerns. The most important thing to know, though, is that every possible step is being taken to protect the rest of your body while your dentist works on improving your smile.
About the Author
Having practiced dentistry since 1990, Dr. Antoon remains up-to-date with the latest skills and technologies. He is part of the Texas Dental Association and opened his current practice, Antoon Family Dental, to bring Plano patients high quality care that leaves them with healthier, more confident smiles. To schedule an appointment or ask about infection control practices for COVID-19, visit his website or call (972) 267-5000.