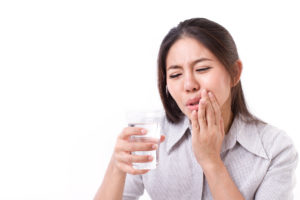 After a nice long jog in the warm weather, you pour yourself a big glass of ice water to cool down and hydrate. However, as soon you take the first sip you feel a sharp pain your teeth! If you have sensitive teeth that keep you from fully enjoying your daily life, you are not alone. According to the Academy of General Dentistry, approximately 40 million Americans experience tooth sensitivity. Fortunately, there are some simple steps you can take to protect your teeth from sensitivity and discomfort. Just read the advice below from a dentist in Plano to find out more.
What Causes Tooth Sensitivity?
When you look at your smile in the mirror the layer of the teeth you see in your reflection is called enamel. This hard outer layer protects the inner tooth material, called dentin, which contains microscopic tubules filled with tiny nerve endings. Whenever a tooth loses its protective covering of enamel, those nerve endings are exposed to hot, cold, or acidic foods – the feeling of discomfort produced in this scenario is known as dentin hypersensitivity!
Dentin hypersensitivity, or tooth sensitivity, can be caused by all the following:
Brushing aggressively with a hard-bristled toothbrush
Consuming highly acidic foods and beverages
Tooth decay, worn fillings and broken teeth that expose a tooth's dentin
Gum recession that exposes a tooth's root surface
Grinding teeth at night
To prevent your enamel from eroding and causing tooth sensitivity, follow the below three tips.
Don't Brush Aggressively
If you brush your teeth with too much pressure you may end up taking off more than just bacteria. Do the bristles on your toothbrush appear crushed? That may be a sign that you are pushing too hard when you brush and contributing to enamel erosion. To keep enamel clean and strong, choose a soft-bristled brush and hold it at a 45-degree angle to your gums when cleaning your teeth. Brush firmly, but gently.
Avoid Acidic Foods and Drinks
Eating and drinking acidic foods and drinks – such as soda, sports drinks, citric fruits, and high-sugar carbs – can cause painful sensitivity in your teeth, as the acid eats away at enamel. Instead, snack on food and drinks that are good for your teeth, such as:
Fiber-rich fruits and vegetables
Fish
Plain yogurt
Cheese
Milk
You can also chew sugarless gum to increase saliva production and help wash away harmful bacteria.
How to Protect Your Teeth at Night
Grinding your teeth at night will slowly wear away your enamel. Talk to a Plano dentist about getting fitted with a custom-made mouth guard to protect your teeth from nightly wear and tear. If the problem persists or grows more severe, your dentist may recommend dental work to change your teeth's position or the use of a muscle relaxant.
Going about your day with sensitive teeth can be both distracting and uncomfortable. Fortunately, there are steps you can take to reduce tooth sensitivity. Just follow the steps above to protect your enamel and maintain a healthy smile.
About the Author
An active member of the American Dental Association, Dr. Sam Antoon has been practicing dentistry since 1990. With all those years of experience under this belt, Dr. Antoon has plenty of tips and advice to share with patients about how to maintain happy, healthy smiles. Patients old and new can reach Dr. Antoon and his knowledgeable and friendly staff by visiting the Antoon Family Dental website or by calling the office at 972-267-5000.