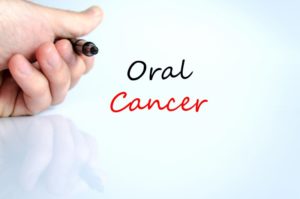 Did you know that more people die from oral cancer than other forms like cervical, brain, liver, or kidney cancer? Although it is easily and successfully treated if caught early, many people still avoid oral cancer screening simply because they don't bother seeing their dentist on a regular basis. This life-saving part of a normal dental checkup is not only painless, but it's quick and easy to perform. A dentist in Plano discusses how a typical screening is conducted. In addition, we'll look at some of the symptoms you can watch for if you think you might have oral cancer.
The Importance of Oral Cancer Screenings
Not only does your dentist want to check to make sure your teeth and gums are in good shape, but he also wants to check for any signs or symptoms that could be the early stages of oral cancer. While this might sound a bit scary to think about, your dentist is trained to see things you may not even notice yourself. Plus, if it is detected early, the likeliness it will be successfully treated increases.
And just because there is a natural association between oral cancer and smokers or heavy drinkers doesn't mean those individuals are the only ones to develop the disease. As people continue to practice risky behavior (heavy drinking, tobacco use, extended sun exposure, etc.), the age and even gender of those most likely to develop oral cancer have lowered from men over 50 to both men and women 40 and under.
The Quick and Painless Process
You should be checked at least once a year for oral cancer, and this examination will occur during a regularly scheduled dental appointment. It's considered a key component of preventative care and is relatively easy and quick to perform. Also, it's completely painless.
Each dentist is different as to how they will perform the evaluation. Oftentimes, x-rays are taken to look beneath the gum line to look for any signs or symptoms, in addition to a visual and touch-based examination. Your dentist may use their fingers to sweep your mouth, under your tongue, in the roof of your mouth, and inside your cheeks, as well as ask you any questions about your habits and behaviors.
The Obvious Symptoms
Not all symptoms are noticeable to the human eye; however, for those that are, here are some you can look for when determining if it might be oral cancer:
Red or white patches in your mouth
Oral sores that don't heal and/or continuously bleed
A lump or hard spot in your mouth
Pain when you bite
Numbness
Trust us when we say, stick to your regularly scheduled dental appointments. Not only will you be glad you did because you'll walk away with healthier teeth and gums, but you'll have peace of mind knowing you're taking care of your overall health thanks to an oral cancer screening.
About the Practice
Antoon Family Dental wants to help you improve your overall oral health. Offering a comfortable atmosphere, our patients can expect the latest in advanced dental technology, as well as great amenities to create a comfortable experience. If you're concerned about your dental health, don't wait any longer. For questions or to learn more about our services, contact us at (972) 267-5000.