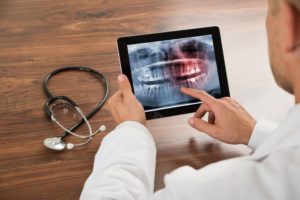 Since the emergence of X-Ray technology in dentistry in the 1950's, patients have benefited exponentially. This is because professionals have been able to facilitate faster healing by gaining a greater understanding of what and where there are problems with the bone structures of the mouth, which is why your family dentist of Plano advocates taking X-Ray photos. He finds that this technological breakthrough that first appeared in the late 19th century is still super effective in helping to deliver the best care. But the help that he can offer is contingent upon you taking advantage of your preventive dentistry visits. Learn why they are so important as you continue reading.
What is an X-Ray Photo?
An X-Ray is a form of electromagnetic radiation that generates images of the inside of your body. Since it was first discovered over 100 years ago and later introduced to the practice of dentistry nearly 70 years ago, the technology and safety of this form of imaging have improved drastically.
Two of the most effective improvements are Digital and Panoramic Digital X-Rays:
Digital X-Rays – An alternative to traditional X-Rays, this method allows for images to be displayed almost immediately after capturing, which lessens the time you have to spend at visits and reduces the amount of radiation that you're exposed to.
Panoramic Digital X-Rays – Panoramic Digital X-Rays capture a detailed image of all of your teeth and can reveal signs of infection, bone abnormalities and erupting wisdom teeth. This method is also a valuable aid in assessing how much healthy bone material you have available before dental implant procedures are conducted.
How Often Should You Have X-Rays Taken?
X-Rays may be taken during your semi-annual preventive care visits, but their overall frequency depends on your dental history. Here are some of the basic guidelines:
New Patient – If you are new patient, a full set of X-Rays may be recommended so that your dentist can fully assess the current state of your oral cavity.
Repeat Patient (with history of tooth decay) – If you are a repeating patient with a history of dental carries, your local expert may suggest that you have X-Rays taken every 12 to 18 months.
Repeat History (no tooth decay) – The recommended frequency of X-Rays is lowered to 24 to 36 months if you don't have a history of tooth decay.
The best way to protect your teeth and ensure they're health well into the future, is to reach out to your Plano family dentist to schedule your first cleaning and checkup. At that time, you'll be informed of the current condition of your mouth, teeth and gums, and your local professional will advise as to how often you should have X-Rays taken thereafter. You can then enjoy the happiness that comes along with knowing that you have excellent oral care.
About the Author
Sam Antoon, DMD received his Bachelor of Arts degree in Microbiology from Southern Illinois University and then went on to earn his Doctor of Dental Medicine degree from the Southern Illinois University School of Dental Medicine. He followed that with a year of Graduate Practice Residency. Dr. Antoon practices at Antoon Family Dental and can be reached for more information through his website.