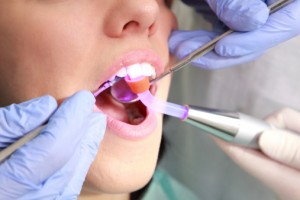 Oral cancer is one of the most deadly types of cancer, claiming at least one life every hour of every day. Of the 43,250 men and women diagnosed this year, only slightly more than half will live to see 2020. Fortunately, early treatment and proper management of oral cancer have been shown to make a dramatic impact in the number of patients who do live. At Antoon Family Dental in Plano, TX, patients seeking oral cancer screening turn to Dr. Sam Antoon for his experience, expertise, and advanced technology.

Common Signs of Oral Cancer
Though an oral cancer screening is the only definitive way to rule out the presence of this aggressive disease, there are some common signs you can watch for at home between your regular scheduled appointments with Dr. Antoon. These include:
A sore that bleeds excessively or will not heal
Numbness or tingling anywhere in the mouth
Rough or thickened patches of tissue in the tongue, gums, or cheek lining
Unexplained hoarseness and/or difficulty swallowing
A difference in the way your dentures fit
Chronic cough and/or the feeling that something is caught in the throat
White and red patches anywhere in the mouth, particularly under the tongue
If you notice any of these symptoms or any other abnormalities, call our office to talk with a knowledgeable member of our team as soon as possible. When diagnosed and treated early, oral cancer can be overcome. We want to help you live a long and healthy life with the help of our advanced diagnostic dental solutions.
Schedule Your Screening Today
Oral cancer screening is a key component of preventive dentistry and should be performed at least once yearly at a periodic dental exam. If it has been more than 12 months since your last oral cancer check, please don't hesitate to contact our office today to schedule yours. Our friendly, experienced oral healthcare team genuinely looks forward to serving you. Conveniently located on Preston Road in Plano, TX, our state-of-the-art dental practice proudly serves patients who work along Spring Creek Parkway, Tennyson Parkway, Legacy, and more. Dr. Antoon is a general, cosmetic, and restorative dentist serving families from Plano, Frisco, Allen, Richardson, Lewisville, The Colony, and beyond.