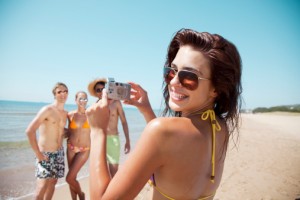 Spring is in the air and before we know it, the warm Texas summer will be upon us. That means poolside parties, barbecue get-togethers, and trips to the lake with family and friends. Make sure that your smile is as bright as your personality this summer with teeth whitening at Antoon Family Dental, conveniently located just off Preston Road near Tennyson Parkway in Plano, TX. Our extensive menu of cosmetic dentistry services has everything you need to enjoy a confident, attractive smile this season and all year round.

Why Choose Professional Teeth Whitening?
We've all seen the over-the-counter teeth whitening products advertised on TV and on the shelves of our favorite grocery stores. These products claim to whiten as well as professional treatments, but the truth is that generic kits like these lack the powerful formulas needed to effectively remove enamel stains.
Believe it or not, those hard, durable teeth of yours are actually porous. This means that they're full of microscopic holes in which staining agents become trapped. This gives your smile a dingy, lackluster appearance and can make you appear years older than you actually are. Fortunately, teeth whitening with Dr. Antoon and his team can eliminate even the most persistent stains for a smile that is several shades whiter.
Because we know that you and your family lead busy lives and that your time is a precious commodity, we are happy to offer two convenient teeth whitening options: Zoom! Teeth Whitening and take-home trays with professional-grade bleaching gel. Whichever option best suits your needs, you'll find that the results are the same: a beautifully luminous smile and improved confidence in your appearance.
Schedule Your Plano Cosmetic Dentistry Consultation
Why not show off your smile this summer knowing that you look your absolute best? Call us today to learn more about teeth whitening services and to schedule your visit with Dr. Antoon. Our knowledgeable, caring team looks forward to welcoming you to our warm and inviting dental office. From our Plano, TX office, we proudly serve families from throughout the surrounding areas, including Frisco, The Colony, Lewisville, Allen, Richardson, North Dallas, and beyond. We are also happy to welcome busy professionals who work in the area, including the Shops at Legacy, on Coit Road, Spring Creek Parkway, Tennyson Parkway, and on Preston Road.