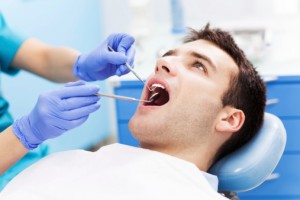 When most of us think of gum disease, the first thoughts that come to mind are typically bleeding after brushing, bad breath, and even gum line recession. While all of these are certainly common symptoms associated with periodontal disease, there are actually even more severe complications to keep in mind as well. At Antoon Family Dental in Plano, TX, Dr. Sam Antoon and his team offer a wide variety of general and preventive dentistry services to families from throughout the DFW Metroplex, including periodontal therapy for the treatment of gum disease.
The Mouth Body Connection: Systemic Health
If you envision the mouth as a portal to the rest of the body, it's not hard to see why treating gum disease is so vital to overall well-being. When bacteria from around and beneath the gum line are allowed to enter the bloodstream, serious problems can result. In fact, recent studies have linked untreated gum disease with a number of potentially life-threatening conditions, including the following:
Heart disease
High blood pressure
Rheumatoid arthritis and osteoporosis
Cancers of the blood and the pancreas
Respiratory illness, including pneumonia
Stroke
Dementia
Higher risk of premature birth and low birth weight in pregnant women
Heart attack
Fortunately, periodontal therapy can help you to dramatically reduce your risk of developing these and other complications associated with gum disease. With regular visits with Dr. Antoon and his experienced, caring team of oral healthcare professionals, you can enjoy not only a healthier smile, but a healthier body as well.
Schedule Your Consultation Today
If you or someone in your family is suffering from the common symptoms of gum disease, please don't hesitate to contact us today to schedule your visit. Our family-friendly dental practice in Plano, TX warmly welcomes patients from throughout the surrounding areas, including busy professionals who work along Preston Road, Spring Creek Parkway, Legacy, Tennyson Parkway, and more. Dr. Antoon is proud to provide general, cosmetic, and restorative dentistry to families in Frisco, Plano, The Colony, Lewisville, Allen, Richardson, and beyond.