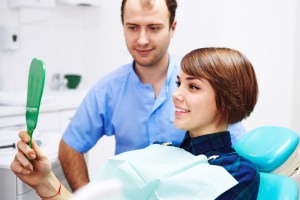 Did you know that the demand for cosmetic dentistry has doubled within the last five years? More people than ever before are turning to their dentists to brighten their pearly whites and help them achieve the picture-perfect smile they've always dreamed of. That said, it's natural to wonder if it's possible to use dental insurance to help alleviate the cost of cosmetic care. The answer is a little complicated, but your dentist can help clear things up. Keep reading to learn more!
What Is Dental Insurance Used For?
Dental insurance is meant to act as a "safety net" that helps lessen the financial burden of necessary and preventive dental care. This includes a wide assortment of things: routine checkups and teeth cleanings, X-rays, dental fillings, and other types of treatments meant to prevent serious oral health issues. It also generally includes emergency dentistry, as well as treatment that's been deemed medically necessary, like root canals, crowns, and even tooth extractions.
To put it simply, insurance providers understand just as well as dentists that small dental problems have the potential to become severe if left untreated, which is why preventive care is so heavily covered and encouraged!
When Does Dental Insurance Cover Cosmetic Dentistry?
Modern dentistry has evolved to include much more than what's necessary to maintain optimal oral health. These days, all sorts of cosmetic treatments have emerged as popular and effective means for brightening one's smile: options like teeth whitening, direct bonding, porcelain veneers, and more are all enticing solutions that provide immediate results.
However, most cosmetic dental procedures are considered purely elective and not medically necessary, meaning that they aren't going to be covered by standard dental insurance plans. This includes teeth whitening, correcting a space between the teeth that wasn't caused by accident, injury, or disease, or correctly an existing cosmetic solution such as a veneer. There are certain situations where coverage might be possible though, including:
Your teeth have been damaged due to physical trauma, decay, or disease.
You have missing teeth, which can impact your ability to bite and speak correctly.
Your teeth are crooked or misaligned and in need of orthodontic treatment.
Some procedures have both restorative and cosmetic purposes, such as crowns, which are the go-to treatment following root canal therapy.
Regardless of what type of treatment you're seeking—preventive, restorative, or cosmetic—it's crucial to consult with your insurance provider as well as your dentist to understand the extent of your coverage.
About the Practice
Under the leadership of Dr. Sam Antoon, the team at Antoon Family Dental is excited to provide patients and families in the Plano, TX community with an unrivaled level of dental care. They're proud to offer a wide range of preventive, cosmetic, and restorative treatment options in addition to working with multiple insurance providers. If you have any questions about the blog or if you'd like to arrange a visit for you or a loved one, feel free to contact the practice online or over the phone for additional information. Telephone: (972) 640-6229.