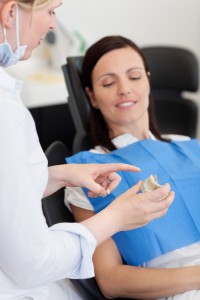 Are missing teeth holding you back, keeping you from speaking, eating, and smiling with confidence? At Antoon Family Dental in Plano, TX, Dr. Sam Antoon believes that everyone should be able to enjoy the numerous benefits of a complete smile and a fully functional bite; that's why he offers a comprehensive array of restorative dental procedures to help rebuild your dentition in the presence of missing teeth. One of these solutions is crown and bridge therapy.
Restoring Form & Function
Crown and bridge treatment involves the replacement of one to three missing teeth all in the same line. Two healthy teeth on either side of the gap are used to secure a bridge of prosthetic teeth in between. The bridge is anchored to the two supporting teeth using crowns. Both the crowns and the bridge of prosthetic teeth are customized to match the shade, shape, and size of the surrounding dentition for a natural, seamless appearance.
Patients with crown and bridge restorations are able to eat their favorite foods again with complete comfort. You can feel free to smile whenever and wherever you like, feeling confident in the fact that your teeth look completely natural. As with any of our restorative dentistry solutions, we're always happy to answer any questions you may have regarding crown and bridge treatment. Give us a call today to learn more.
Schedule Your Consultation Today
If you are currently missing between one and three teeth in a row and you'd like to explore your restorative dentistry options, we're here to help. Contact our office in Plano, TX today to schedule your appointment with our caring, friendly staff and Dr. Antoon. We look forward to showing you the close, personal attention your smile deserves. Our state-of-the-art dental practice proudly serves patients from throughout nearby areas as well, including Frisco, Allen, Addison, Richardson, Lewisville, The Colony, and more.