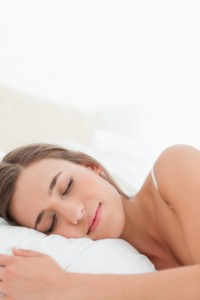 Obstructive sleep apnea, or OSA, is a condition that affects approximately 18 million American men and women, though many of those affected are unaware of their disorder. This is because OSA occurs while the patient is unconscious, depriving the brain and body of vital oxygen throughout the night. The soft tissues of the throat and palate block the passage of air down into the lungs, leading to a variety of other health issues over time. Fortunately, Dr. Sam Antoon can help. At Antoon Family Dental, Dr. Antoon and his team provide families in Plano, TX with a variety of general dentistry services, including non-surgical sleep apnea treatment.
The Importance of Treating Sleep Apnea
In patients with sleep apnea, an insufficient amount of oxygen is delivered to the brain and other organs throughout the body. When blood oxygen levels decrease to a certain point, the brain attempts to awaken you in an effort to force normal breathing. This repeated struggle to breathe despite the obstruction of the throat leaves the patient feeling tired in the morning and throughout the day. It also causes loud snoring, an issue that often leads to one member of an otherwise happy couple spending the night on the couch.
While excessive snoring is certainly known as the most common nuisance associated with sleep apnea, there are other concerns that can prove far more serious. Instances of heart disease and stroke, for example, have been found to be higher in patients with untreated sleep apnea. Other conditions frequently linked to OSA include chronic fatigue, depression, anxiety, pulmonary hypertension, high blood pressure, and eye problems like glaucoma. Fortunately, sleep apnea treatment with a custom-fitted nightguard can dramatically reduce your risk of developing these and other health conditions.
Custom Nightguards for Sleep Apnea Relief
If you or your partner is affected by obstructive sleep apnea, the team at Antoon Family Dental can help. Contact us today to schedule your consultation, and learn more about how a custom oral appliance can help you achieve the deep, restful sleep your body and mind need to stay healthy. Our family-friendly, high-tech dental office in Plano, TX warmly welcomes patients from throughout the surrounding communities, including the areas of Tennyson Parkway, Preston Road, Spring Creek Parkway, and the Shops at Legacy. We are also happy to serve families from around North Dallas, including neighborhoods in Frisco, The Colony, Lewisville, Allen, Richardson, and beyond.