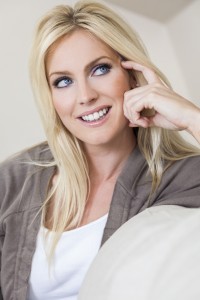 A beautiful, bright white smile is a great asset in your personal and professional life, conveying a variety of characteristics and emotions. Did you know that men and women with whiter teeth tend to be perceived as more attractive, more charismatic, and even more successful? At Antoon Family Dental in Plano, TX, Dr. Sam Antoon and his team of oral health professionals help people just like you discover the many benefits of a luminous white smile with a full menu of cosmetic dentistry services, including teeth whitening.
Why Choose Professional Teeth Whitening?
Unlike the generic teeth whitening products you can purchase at your local drug store, professional whitening services are developed with powerful ingredients that produce truly lasting results. In-office teeth whitening at Antoon Family Dental lifts years of deeply set-in stains from the enamel of your teeth in about an hour, allowing you to leave our office feeling refreshed and confident in your rapidly brightened smile. Even yellowing and discoloration caused by coffee, wine, tea, and tobacco can be corrected in a single appointment with Zoom! Whitening treatments at our conveniently located family dental practice.
If you'd prefer to banish stains on your own time and in the comfort of your own home, Dr. Antoon can help you with take-home teeth whitening products as well. You'll be provided with professional-grade whitening gel and a set of trays that are customized just for you. Within as little as one to weeks, you'll see a dramatic difference in the shade of your smile that still looks entirely natural.
Schedule Your Consultation Today!
If you've been dreaming of a beautiful, brilliantly white smile that takes years off of your overall appearance, contact our office in Plano, TX today. Dr. Antoon and his team look forward to helping you achieve the perfect level of teeth whitening with our customized cosmetic dentistry options. We also happily serve families from nearby communities in Allen, Frisco, Garland, North Dallas, The Colony and more.